---
ŞİŞKO OSMAN HALICILIK
TURİZM SANAYİ VE TİCARET LTD.
Kapalıçarşı Zincirli Han No: 15 34126 İstanbul / TÜRKİYE
Phone: (90) - 212 - 528 35 48 , Fax: (90) - 212 - 526 72 87
Web site: www.siskoosman.com
E - mail: siskoosman@siskoosman.com

Welcome to Grand Bazaar, 600 years old and the biggest Covered Bazaar in the world. There are 66 streets, 22 entrances and 4000 shops in it.
When you entered the Grand Bazaar by Nuruosmaniye Gate (Nuruosmaniye Mosque) which is one of the main doors, take second street on the right, go ahead to the end of the street, you will see the wooden house at the middle of the street. After going ahead for another 20 metre, you will reach the entrance of Zinciirli Han on the right.
You will see shops of Şişko Osman in front when you entered the courtyard of Zincirli Han, which is the most beautiful and the most original caravan palace in the Grand Bazaar.
You can reach us only by a telephone call and our free customer service will pick you up anywhere you are in Istanbul to bring our shop by the shortest way.
Grand Bazaar
Zincirli Han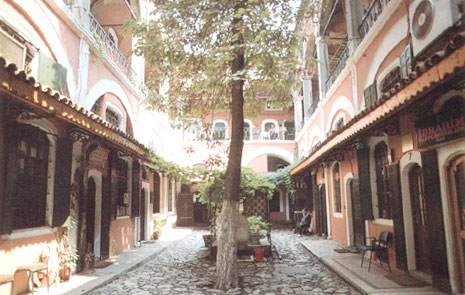 Grand Bazaar-Zincirli Han