The differentia-scpecifica of "Şişko Osman"who is involved in hand made rugs and kilims business in Istanbul Kapalıcarsi (Grand Bazaar) for four generations comes from the quality of the products he sells. Customer satisfaction is his main principal. He travels all around Turkey step by step and acquires the rugs and kilims that are wove by young ladies for their trousseaus. "Şişko Osman" has a special place among his colleagues on the sector that requires a great self-sacrifice and know-how. By his words "it is not enough to know about the rug but you have to read it".
ŞİŞKO OSMAN HALICILIK
TURİZM SANAYİ VE TİCARET LTD.
Kapalıçarşı Zincirli Han No: 15 34126 İstanbul / TÜRKİYE
Phone: (90) - 212 - 528 35 48 , Fax: (90) - 212 - 526 72 87
Web site: www.siskoosman.com
E - mail: siskoosman@siskoosman.com

---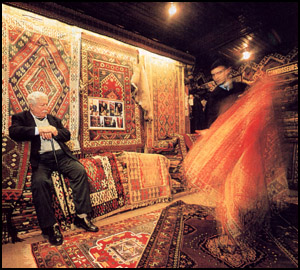 Rugs and kilims has a specific alphabet. The motifs and colours used in the rugs and kilims indicates us the sensations and the ideas of the young ladies who had woven it. These rugs and kilims that are woven by the young ladies for their own use are completely far from the commercial purposes, the materials and dye used are chosen with great care. In general, they are prepared from pure lamb wool and root (naturel) dye. It gives a separate propertie and value to the carpets and kilims. Rugs and kilims prepared for use as trousseau become more valuable as far as they are used and do never devaluate as the ones prepared for commercial purposes.
These rugs and kilims for trousseau wove by use of various motifs, design and colours posses an precious art craft quality.
At "Şişko Osman" who has a large collection you can find rugs and kilims in various sizes, different colours and designs. You will feel as if you are at your own home while visiting the large rugs and kilims collection of "Şişko Osman" and you will be able to get detailed information about the rugs and kilims you like from the experts.
"Şişko Osman" also an expert on antique rugs and kilims, has a large collection consisting of unique pieces. You can see this collection prepared for the palace as well as the rugs and kilims for trousseau.
Silk is the main material used in these rugs that are prepared for use in the palaces of the Ottoman Empire. These precious palace rugs having a specific importance regarding to their purpose preparation can only be found in museums and special collectors. You can have the pleasure of feeling these rugs at "Şişko Osman" whereas in museums you can only see them.
ŞİŞKO OSMAN OFFERS YOU THE LARGEST COLLECTION FOR TRADITIONAL OLD AND AUTHENTIC ORIENTAL TURKISH HAND MADE CARPETS & KILIMS
RECOMMENDED
STORE

PAGE : 204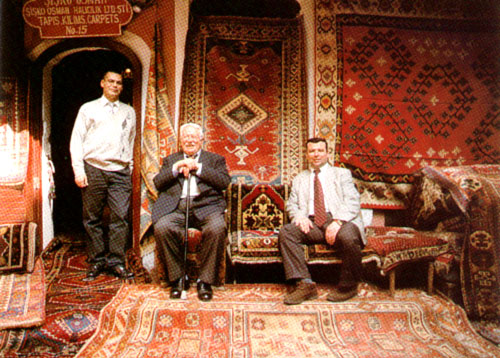 Şişko Osman, his son and his nephew